---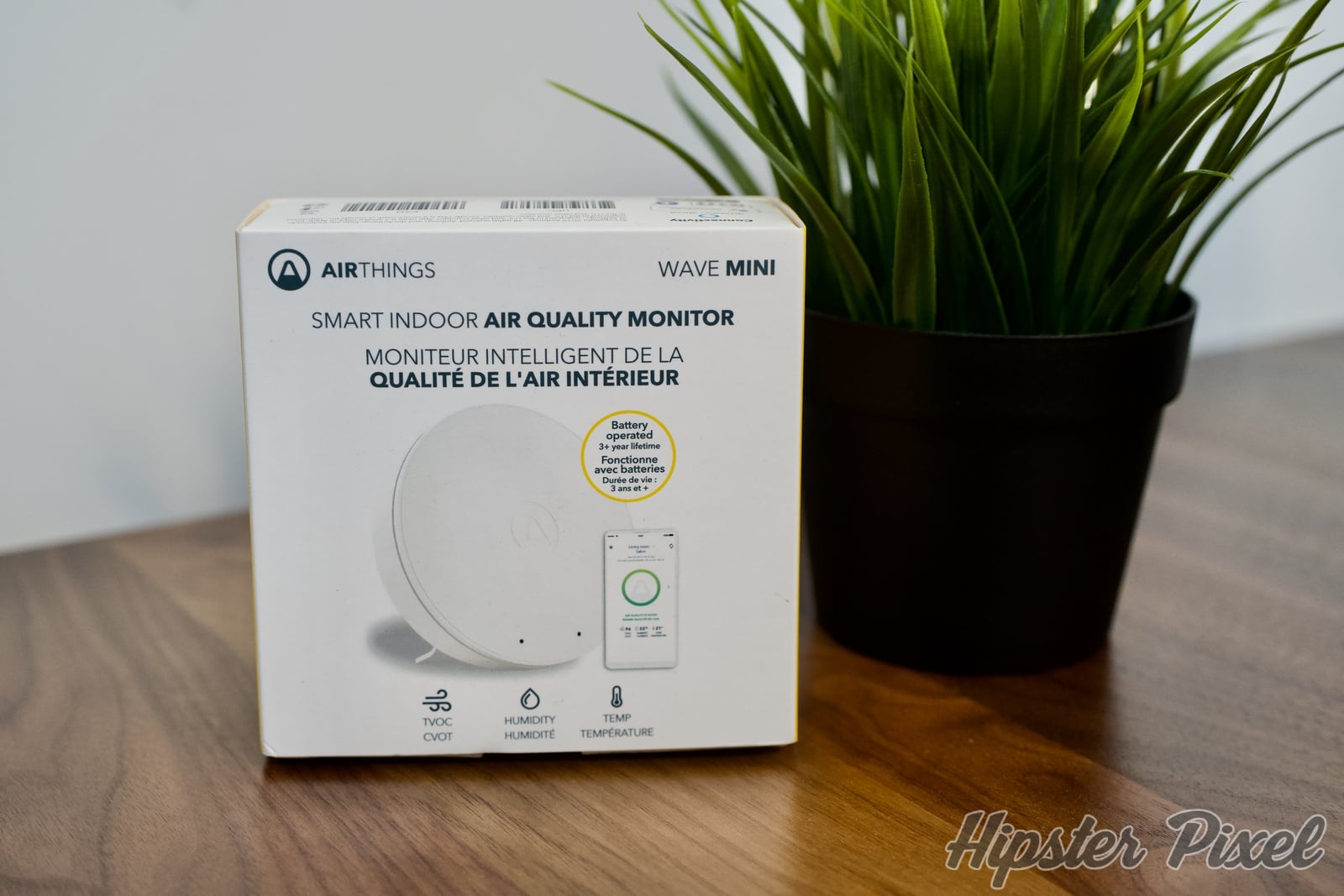 AirThings Wave Mini, Tiny Air Quality Monitor With Mold Risk Indication [Review]
A while back I mentioned a new update for the AirThings Mini where a new feature was introduced, the Mold Rick Indication. A feature that tries to inform you in advance before here is actually mold in your house. This way you can act before the problem is at hand.
This is an exclusive feature for the small AirThings Mini , probably because of their size they can be placed anywhere in your house. Behind a couch, on the window edge, in a corner of a room, anywhere where you think humidity could be a problem. Of course, it also reports in the mobile app information about your air quality that includes humidity levels, temperature and VOCs.
Design
The design of the Airthings Mini is very similar to the Wave and Wave Plus but it packs in a special feature. There is a small stand that comes with it so that you can prop it up vertically. You can also wave your hand in front to have the LED show up as green, yellow or red with regards to the data picked up by the sensors.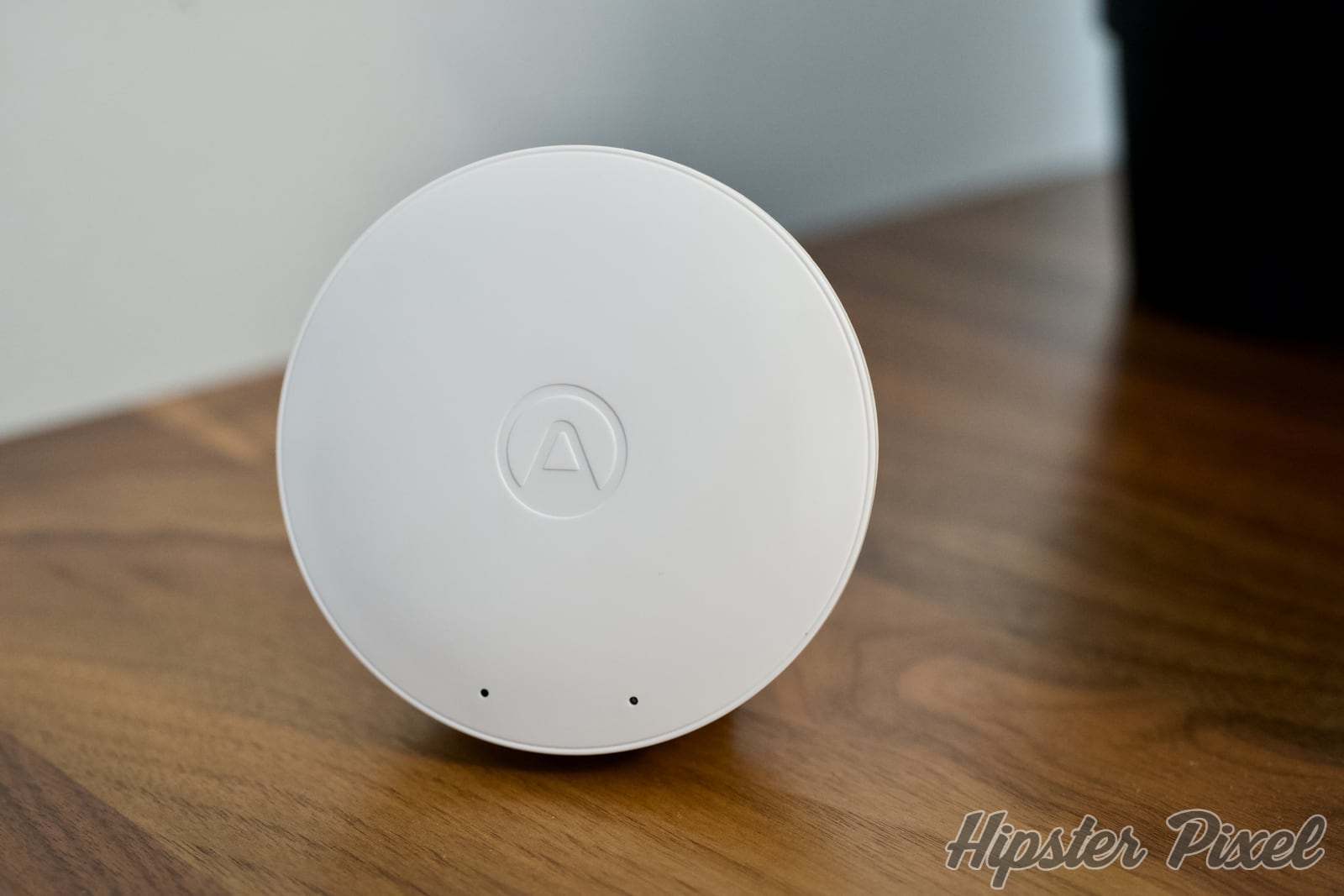 Given its tiny size, slightly bigger than a hockey puck, you can really place it anywhere. I've placed it on window edge in the basement, and in a corner of my basement away from heat source or air currents. There is even a set of wood logs right next to it, which could attract humidity.
Features
Senses temperature, humidity, VOCs and mold risk
Wave to see the LED status
Bluetooth connection
Compatible with Google Assistant and IFTTT
Powered by 3 AAA batteries (included)
Performance
The setup is a breeze, I already had the app installed for my other two Wave Plus, so adding the Mini was a few simple steps and it was ready to work its magic!
Of course, there is a settling-in period to gather accurate data that you need to respect. After 7 days the device is reporting for duty and can show you the relevant information. Mold Risk Indication needs a bit more time to gather sufficient data with the changing humidity levels to forecast any future problems.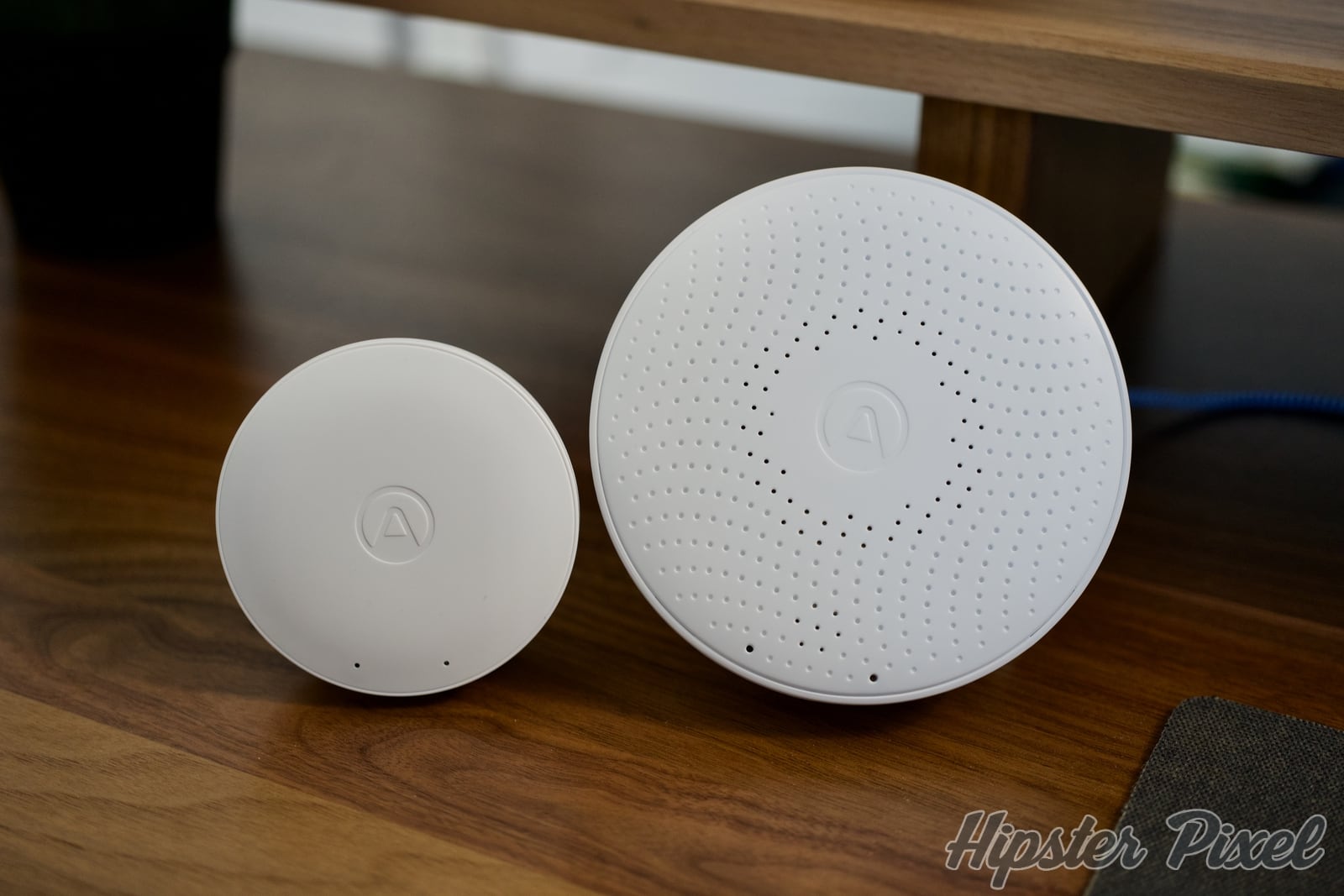 The Mold Risk Indication is a scale from 0 to 10 where anything above 5 requires serious attention. This means that the humidity levels are often higher than normal, for prolonged periods of time. Therefore, you need to either ventilate more, or add a dehumidifier. This is where the smart features of Google Assistant or IFTTT are very useful. You can set up a rule so that when the humidity raises above 60%, it turns ON the dehumidifier. Of course, it needs to be a model that does not need to be turned on manually. For small rooms, I see that the Pro Breeze Mini Dehumidifier is a recommended one and should work great with a smart Switch like the Belkin WeMo Mini .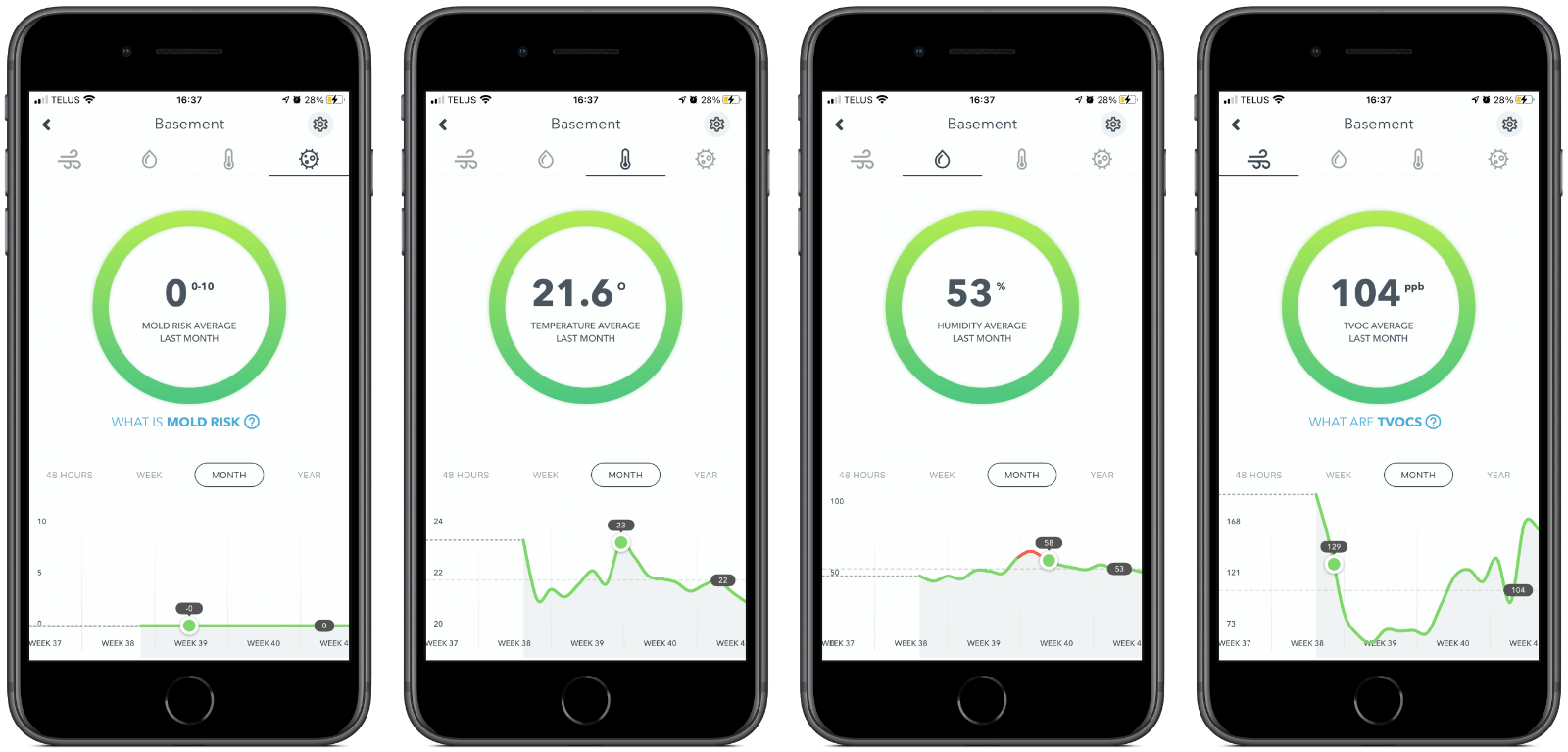 During my testing, which thankfully is quite boring, I was never able to raise the humidity level to a worrisome level. It was kept at 0 as the risk level for the many weeks that I have run the device in my basement with basically no ventilation since we have cold fall temperatures now. As you can see from these graphics, it's pretty flat. Now if you had a different situation, you would see more yellow and red, then you would need to act!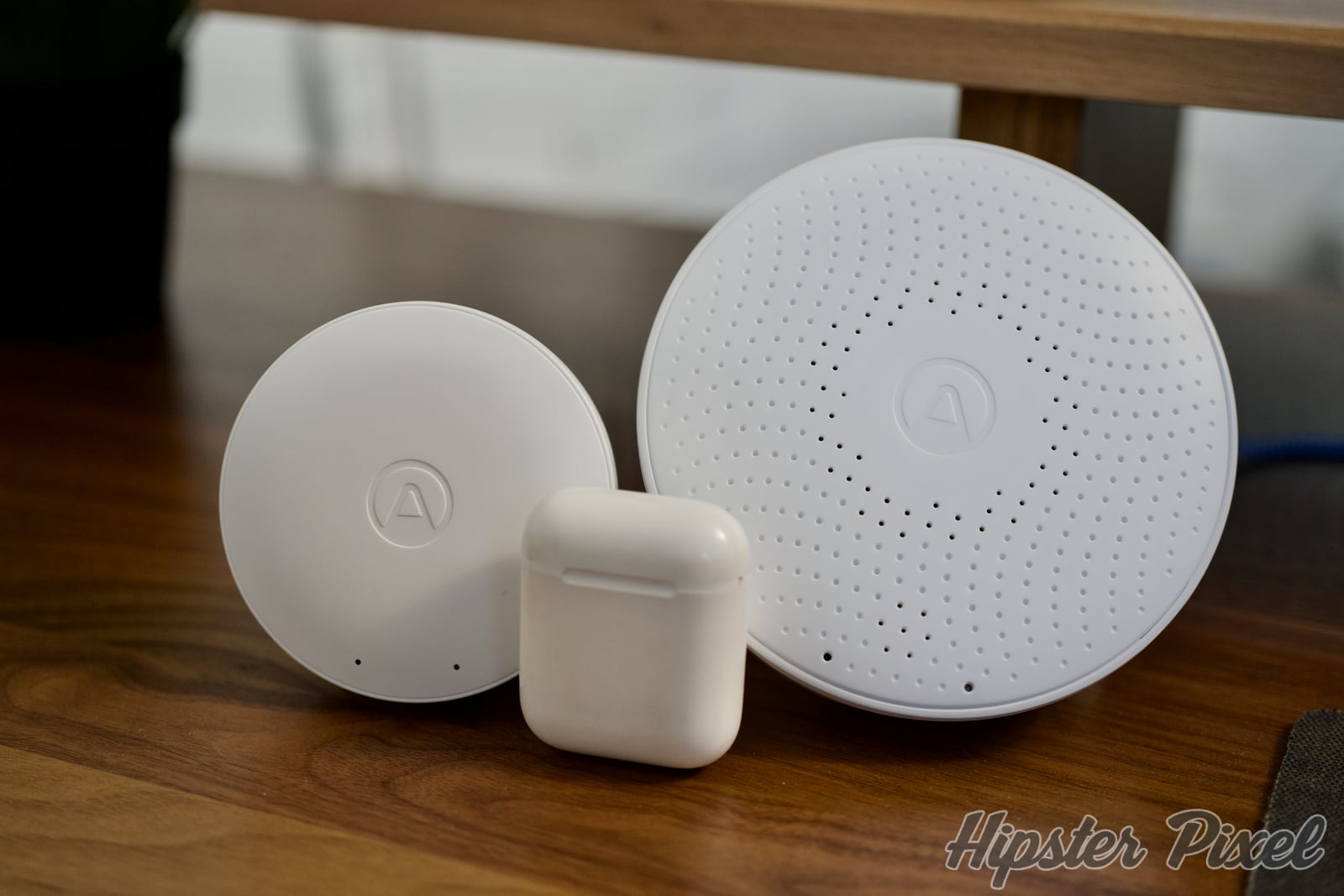 Conclusion
If you are in need to keeping tabs on your humidity levels and know if your situation poses a risk, the Wave Mini is the way to go to not only see detailed numbers on your situation, but also to know if you are exposed to any real danger with the Mold Risk Indication feature. Like all Airthings products, it's easy to set up and very precise in its measurements. Combined with a dehumidifier and or some system to recirculate the air in your house, you can build a completely autonomous system to remove the excess humidity and VOCs from the room being watched!
I strongly recommend the Wave Mini for keeping tabs on your current air quality situation. Now if only we could add events in the application so know how certain actions are impacting the air quality numbers. I would love to hit a button, add an event like "opening windows" and see a vertical line on the graphics that shows when the event occurred.
Also, if we could get a 24h view instead of 48h, it would be much easier to see what happened recently after an action was taken like turning a humidifier ON an hour ago. At the moment we need to scroll and play in the last 100px of the screen to try to make out the change in number. I would love these features in a future software update!
Review Summary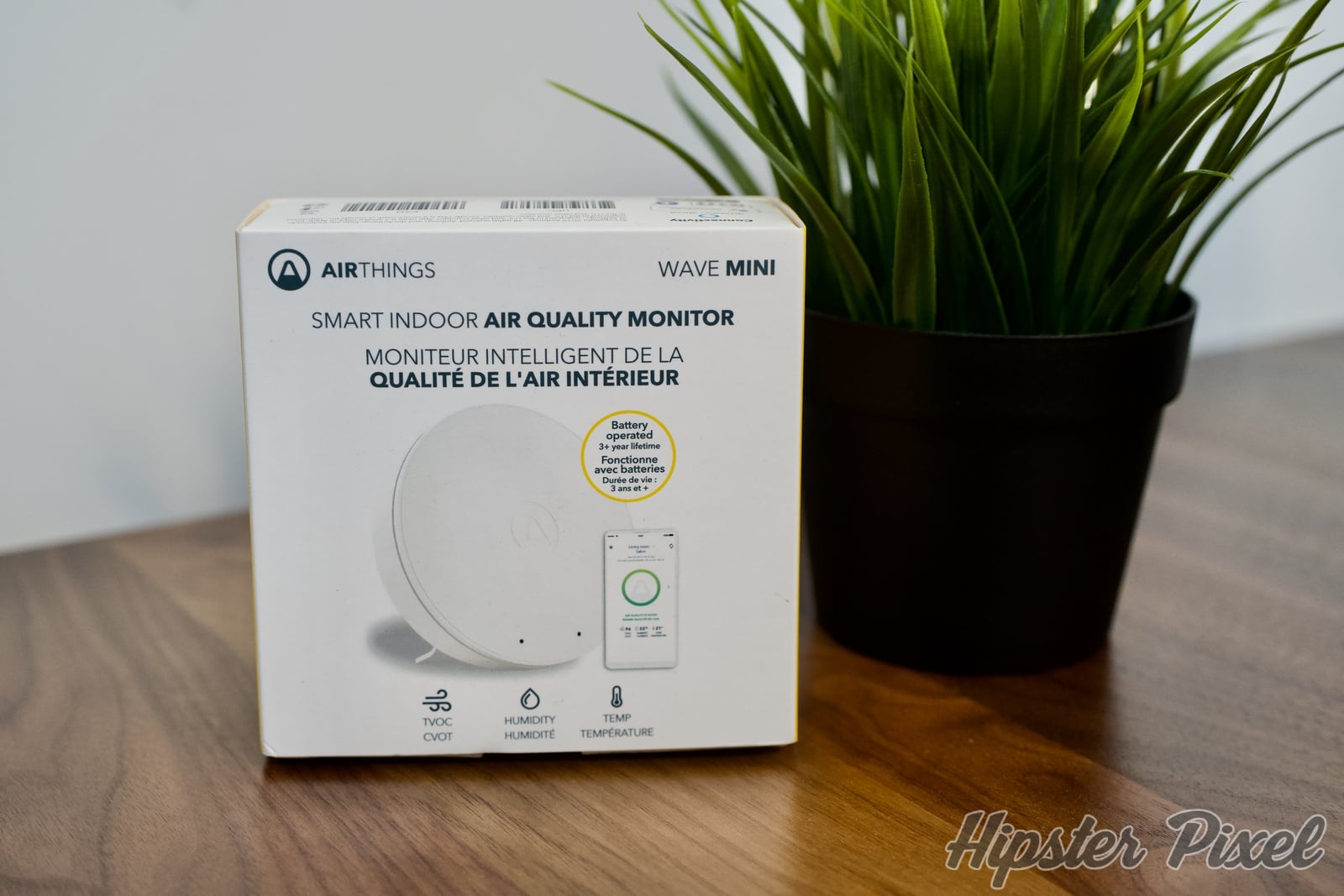 In a tiny hockey puck format, the Airthings Mini was updated with Mold Risk Indication and still reports the temperature, humidity and VOCs levels in a good-looking product. How well does it perform?
The Good Stuff
Compact and Nice Design
Vertical Stand is Practical
Reports accurate readings
Mold Risk Indication is super useful
The Bad Stuff
Hard to see impact on graphics (need 24h view)
Can't add events to graphics