---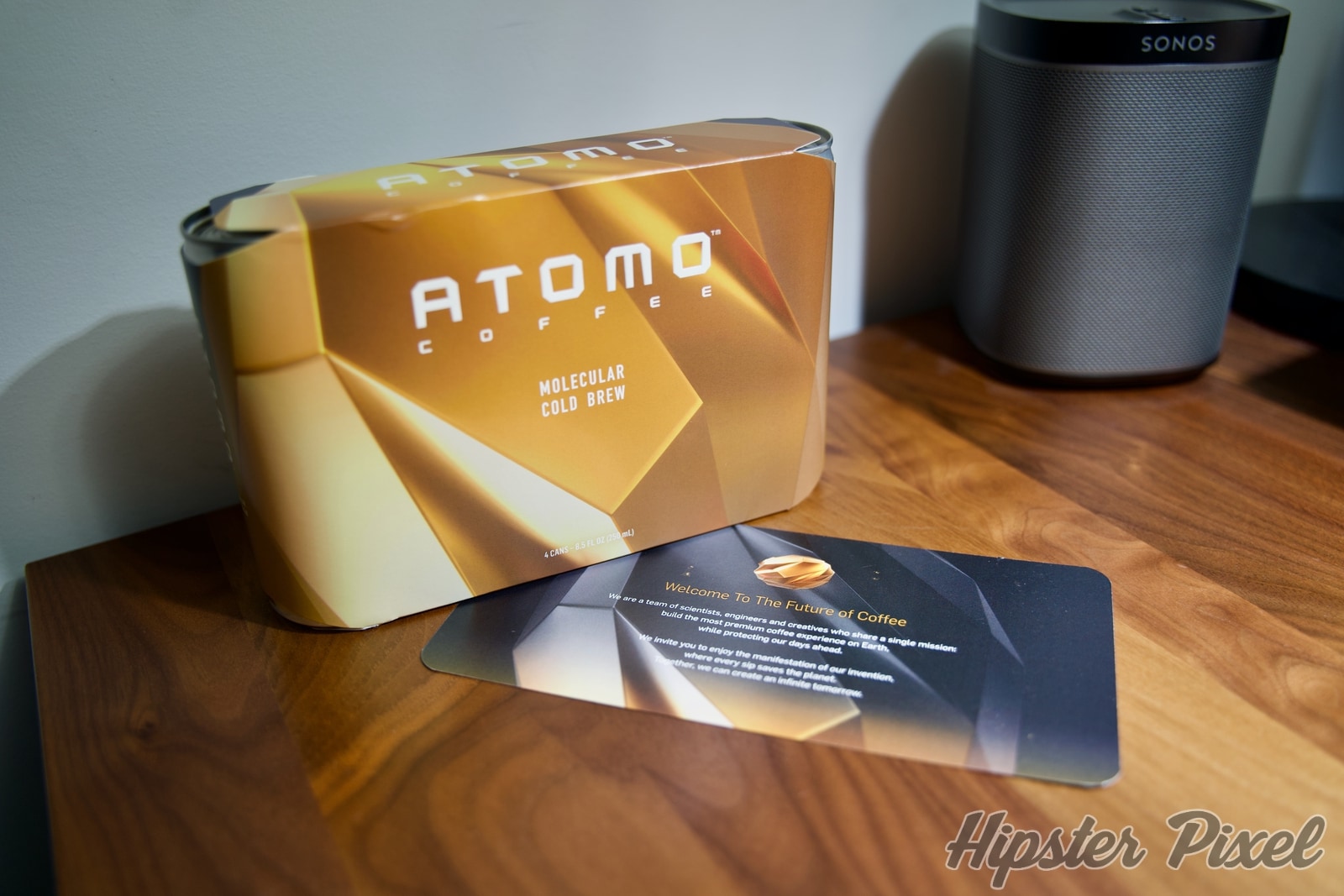 Atomo Cold Brew, Not From Coffee Grains
This will not be a traditional review as it's a drink and not a piece of tech. So I will not be providing a grade but I will still be providing my appreciation or depreciation of the Atomo Coffee Cold Brew coffee.
Atomo Coffee is a startup that tried to solve a very complex challenge, creating coffee without actually using coffee beans. You can understand that creating something that tastes like coffee, control the after taste, the texture, etc., is quite a complex endeavour.
Nonetheless, it is one that Atomo has dedicated lots of resources to solve!
Design
Just look at the design of the cans! I've been following Atomo since its inception and they have gone from a comic book look to this slick, modern look and even though I loved the previous style, I also love this new modern design!
Of course, this has nothing to do with taste so let's jump into this right away.
Products
Coffee is a very, very diverse range of products going from the tiny ristretto to a Venti size cookie dough, oatmeal filled drink. Therefore, Atomo had to start somewhere and the first line of product they choose to tackle is the cold brew in a can.
I've gotten a few cans of two flavours, the Classic and the Ultra Smooth. Both come in 237 ml (8 fl oz) formats and the kit I got welcome you to the molecular coffee.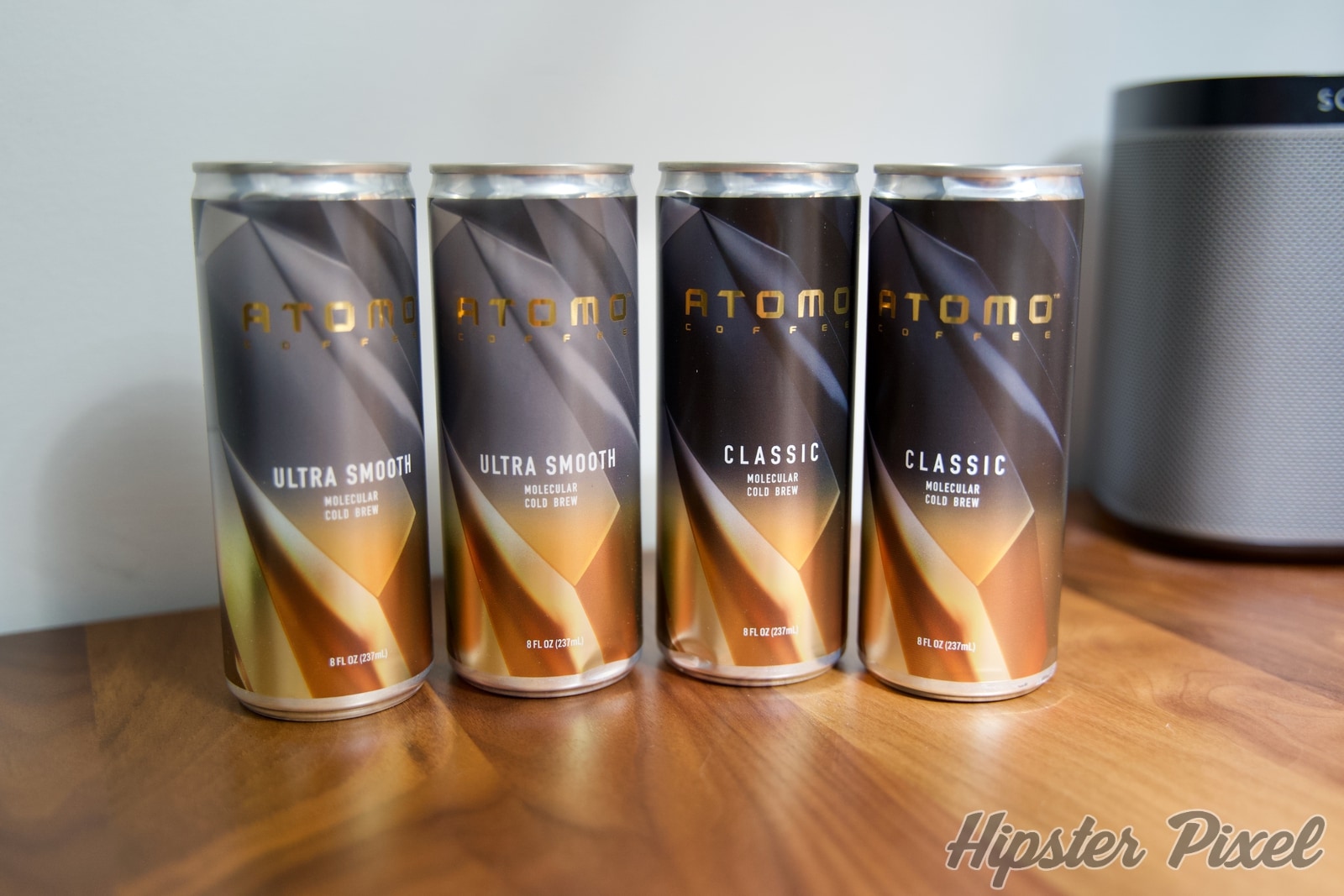 Classic Our CLASSIC roast presents a well-rounded medium roast cup with hints of cocoa, dark fruit and a whisper of smoke.
Ultra Smooth Our ULTRA SMOOTH roast entices black coffee non-believers with an indulgent wave of natural caramelization and hints at a richer, sweeter rise on the front of the flavour.
Both drinks are made of date seed, chicory root, grapes, inulin and some natural flavour to which they added caffeine.
Taste Test
I must first say that I'm not a big fan of cold brews, so when I got this press kit I was not super stoked as I was expecting either regular coffee or some kind of latte like drink. What I do not like from cold brews is the harsh, acidic, taste that cold brew usually has. I love coffee and the taste of coffee, but from what I tried in terms of cold brew, the bitterness is always stronger than the coffee taste.
I must say, though, that I was very surprised by the Atomo cold brew! I got two kinds, the Classic which is closer to what people can consider traditional cold brews. To my taste it was not too bitter nor too acidic! It is actually something I could see myself taking once in a while. The taste is very close to coffee and it was a very enjoyable experience.
The second one I got was the Ultra Smooth, and that one was tasty like the Classic but less stringent or bitter and definitely more my taste. I had to pull a few all-nighters recently and I kept the Atomo for that occasion. I appreciated the late night coffee and the caffeine amount is just the right amount to give you a little jolt but not keep you up all night if you consume one at 7p.m. It contains 84mg of caffeine.
Conclusion
The idea of creating a drink without the need to harvest crops is interesting, but having actually achieved it is even more impressive! I was a skeptic as I've drunk many alternative beverages in the past and most of them were frankly very bad. This is not the case with the Atomo Coffee cold brew products. They are very good, and for someone that normally does not like cold brew I enjoyed the Classic and really enjoyed the Ultra Smooth!
Atomo has something great going on here and we should follow what they are up to. I can see them offering a wide diversity of drinks and become as popular as the mini Starbucks fridges in the grocery store with the Moka latte-based drinks. You have to try it as soon as you can get your hands on it!